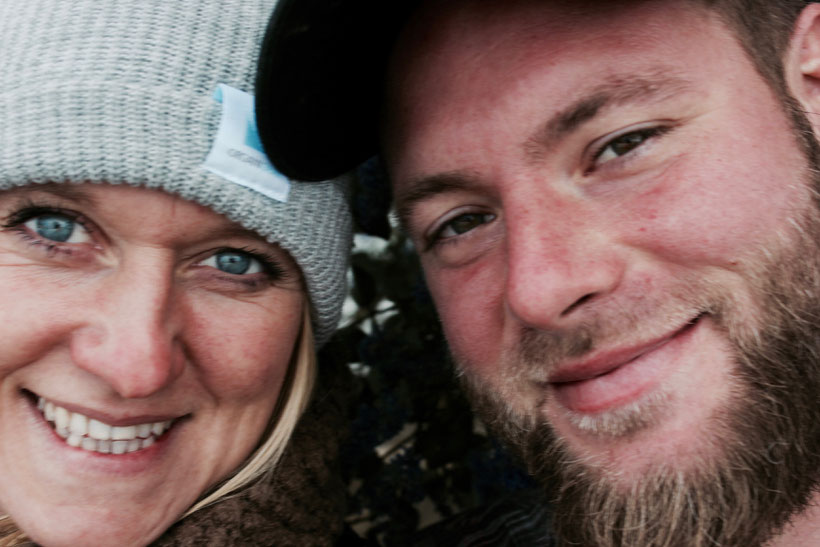 Wow! Das letzte Jahr war echtes ein Lebensabenteuer. Allein die Entscheidung diesen Schritt in eine ungewisse Zukunft tatsächlich zu wagen, war eine Geburt, die sich über einige Zeit hinzog.
Oft hatten wir darueber nachgedacht, unser Leben in Deutschland auf unbestimmte Zeit gegen ein Leben in dem Land einzutauschen, in das wir uns auf unseren Reisen schlichtweg verliebt hatten. Was für ein Gefühl, alles in Deutschland aufzugeben und lediglich mit Hund, Rucksack und Gitarre aufzubrechen...Let`s do it!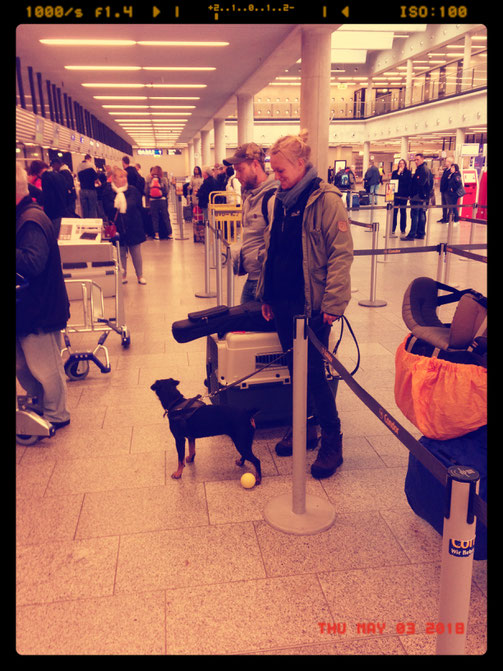 saying goodbye ain't easy
Der Abschied von Familie und Freunden war nicht einfach und insbesondere auch von unserem Leben auf dem Höfchen mit Thorsten in der Rhön, auf dem wir ein wirklich schoenes, idyllisches Landleben mit Pferdchen, Wildschwein und Co. gelebt hatten, hatten wir etwas traurig, aber noch viel mehr mit dem Gefühl der Dankbarkeit für die schönen Jahre hinter uns gelassen.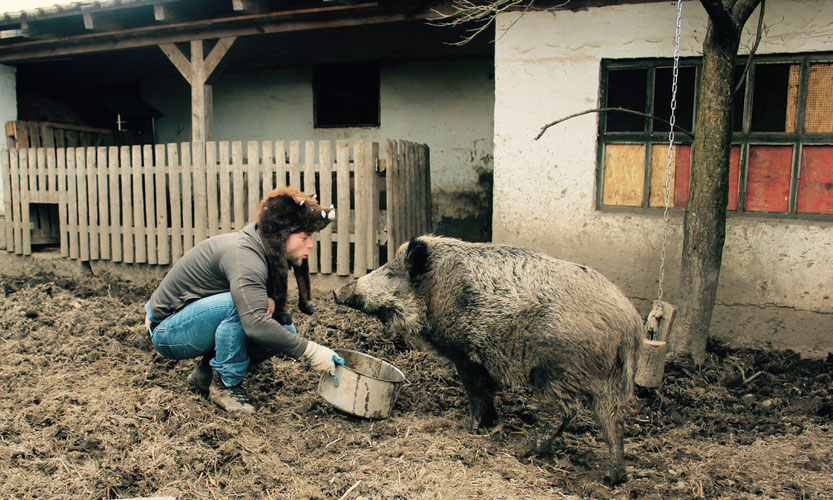 Leaving Comfort zone - onto the wild side of Life
Wir hatten unsere Comfort zone verlassen und uns "frei" gemacht von  unserem angenehmen und sicheren Leben in Deutschland. Was wir in uns trugen war eine Riesenportion Abenteuerlust, Spontanität und das tiefe Vertrauen, dass wir mit unserem Vorhaben unseren Herzen folgen. Wir wollten uns treiben lassen und ließen offen, wo es uns letztendlich hin verschlägt. Vor uns lag also eine laaaaaange Reise ins Unbekannte durch eines der atemberaubendsten Fleckchen Erde.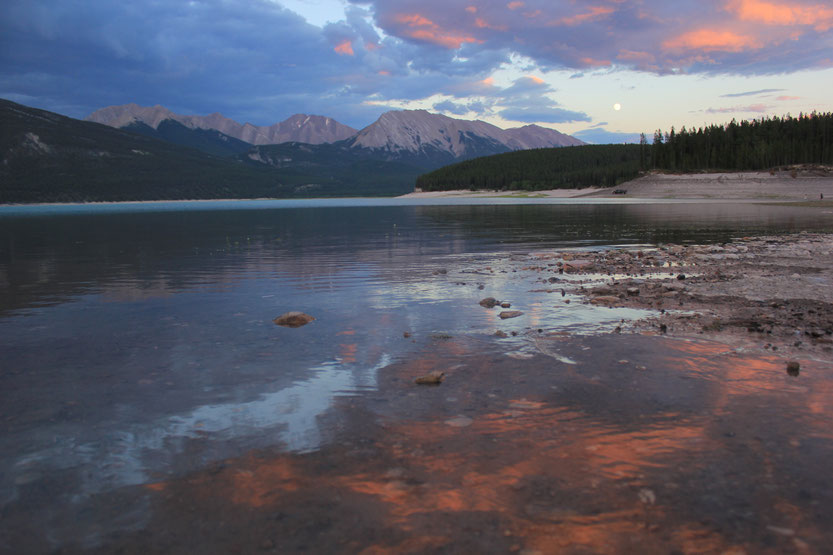 Der Weg ist das Ziel...
...er brachte uns tolle Erfahrungen in der Natur, viele neue Bekannt- und Freundschaften, Musik- und ReisegefährtInnen,  innerliches Wachsen, manchmal Tränen vor Freude,  manchmal aber auch Verzweiflung und Sinnkrisen. Es ist wie jede Reise, auch eine innere zu uns selbst. Außen Reisen, innen wachsen. 
Wir wachsen als Paar, lernen uns immer wieder von neuen Seiten kennen, sind auf unseren Roadtrips 24/7 zusammen, sind füreinander da und wir streiten, ganz klar! Aber wir schätzen es mit jedem Tag mehr, dass wir uns gefunden haben und ein so gutes Team geworden sind.  
Immer wieder erinnern wir uns daran, wie wichtig es ist, einfach zu vertrauen. Wir lassen das Leben passieren.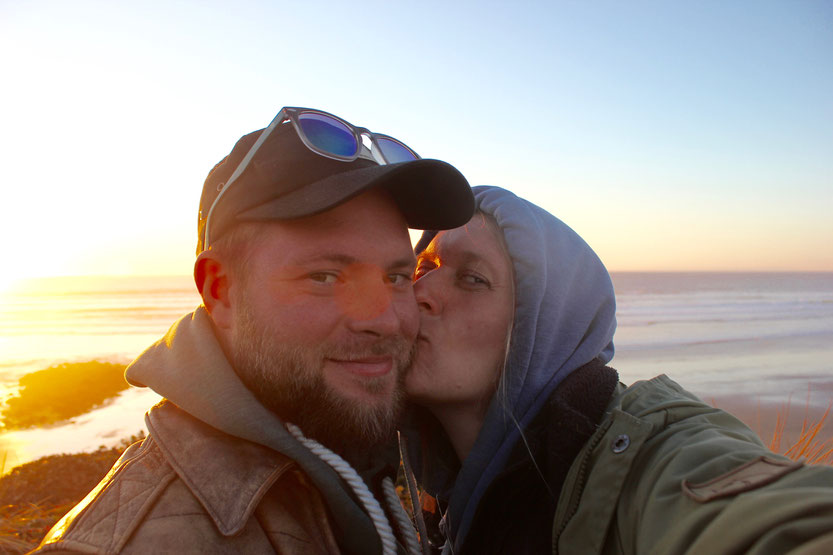 ---
Bella's Flug mein persönlicher Albtraum
Doch eine spezielle Hürde galt noch zu überwinden: Unsere Hündin Bella musste in der Cargo Area des Flugzeuges fliegen. Letztlich ging aber alles gut und wir drei waren heilfroh am Flughafen in Toronto wieder vereint zu sein.

Diese Reise wäre ohne Bella nicht halb so schön. Jeder der einen Hund hat, weiss, wie einmalig die Freundschaft zwischen Mensch und Hund ist. Es gehört zu den kostbarsten Dinge im Leben und diese Reise mit ihr an unserer Seite bleibt unbezahlbar. Lilly, unsere andere Hündin verbleibt in den liebevollen Händen unserer Eltern. Wir vermissen sie sehr, aber das alte Mädchen ist zu Hause besser aufgehoben.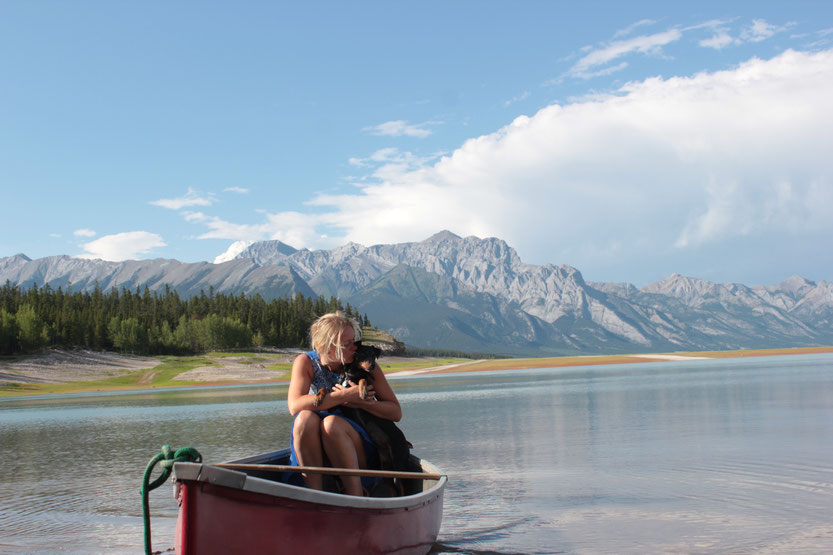 Angekommen auf der anderen Seite des Atlantiks; leben wir einige Wochen in einer veganen Kommune. Auch wenn wir uns gut vorstellen gemeinsam mit anderen zu leben, stellen wir fest, dass  das Leben in einer Haus-Kommune in der Stadt nie unser Ding werden wird. Zu eng, zu laut, zu weit weg von Natur. Aber wir haben dennoch insbesondere hier neue Freundschaften geschlossen und viele Inspirationen aus dieser Zeit mitgenommen.
Ich konnte hier meine ersten Schritte als Yoga-Instructor gehen, indem ich in der Kommune morgens unterrichten durfte, eine tolle Erfahrung.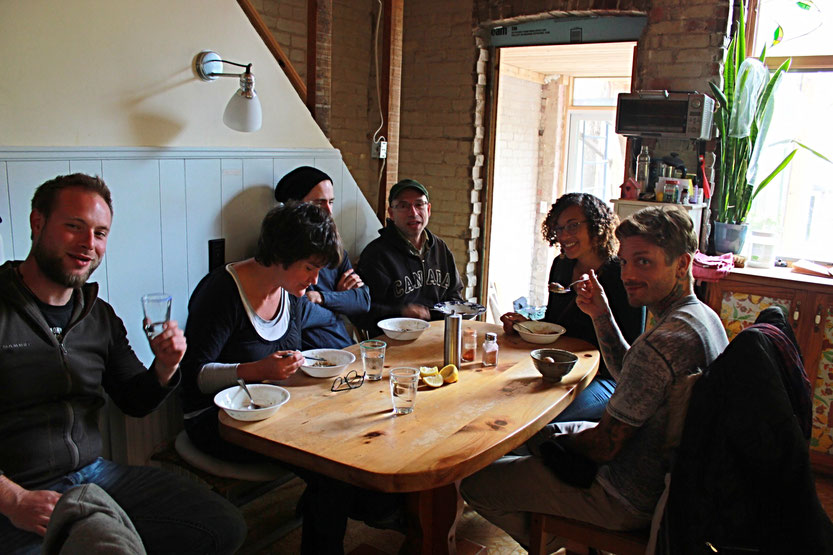 On the Road again
Dann lernten wir Orwell kennen! Orwell ist 34 Jahre alt, hat ordentlich Durst und ist relativ laut. Er wird uns schnell ein sehr treuer Freund und bietet uns selbstlos seine Wohnung an. Was für ein Wohnmobil!!! 
Wie aufregend, durch dieses zweitgrößte Land der Welt zu reisen und sich einfach da niederzulassen, wo es uns gefällt. Wir leben den ganzen Sommer im Wohnmobil und fühlen uns sehr wohl. Dank unserer Solaranlage und gut ausgestatteten Küche sind wir unabhängig und können uns off grid in der Wildnis tollste Dinge zaubern.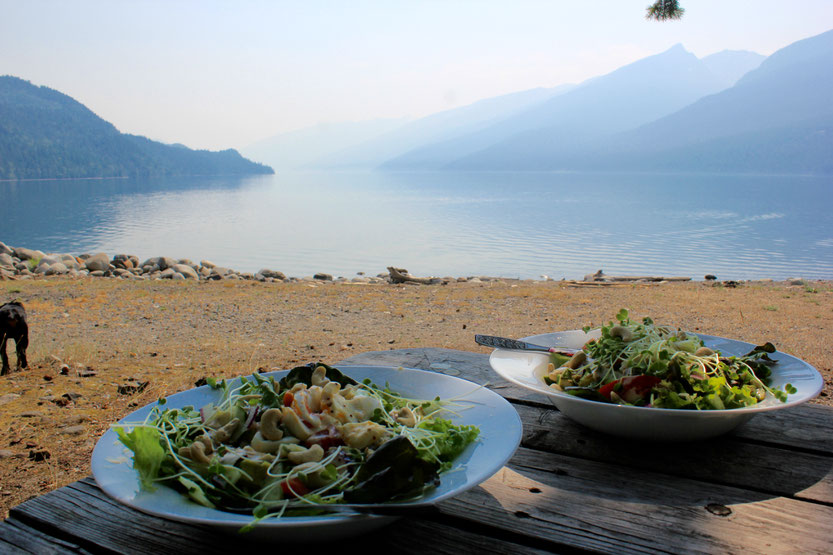 Wir treffen auf viele Menschen, die ein Leben abseits der Norm wagen, mit allen Ups and Downs. Sie inspirieren uns, geben uns viel Kraft, Freude und Enthusiasmus, aber auch Bestätigung, dass wir das Richtige tun.
---
Einen weiteren längeren Stop legten wir in Edmonton ein, da unsere allerliebste Bella eine Operation benötigte. Unser Freund Chris, den wir auf einer vergangenen Reise durch Kanada kennenlernten, nahm uns für einen Monat bei sich auf. Es war die richtige Entscheidung, Bella brauchte viel Ruhe und sie ist schnell wieder gesund geworden. Thank you Chris!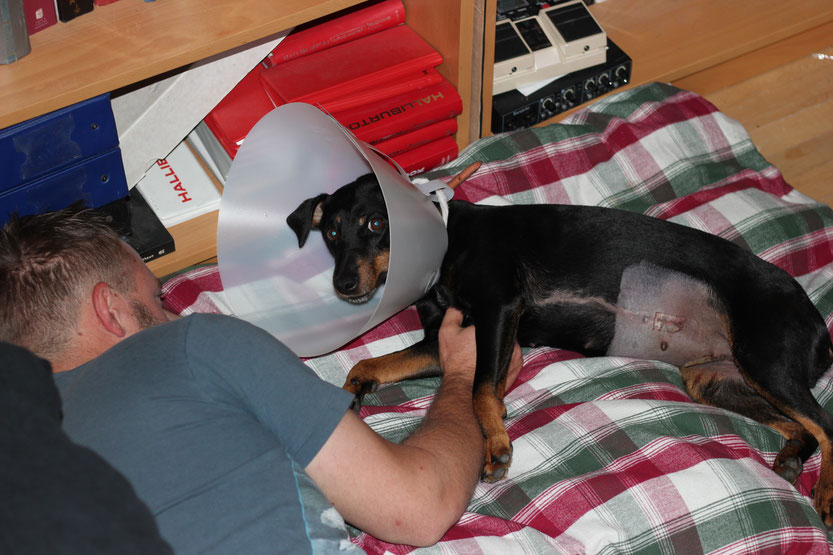 Zwei Wochen Später ist unser Mädchen wieder FIt...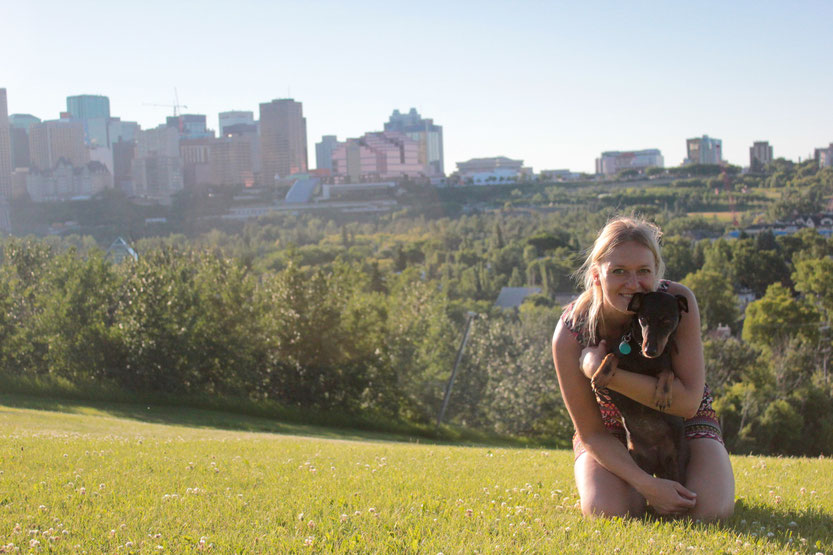 Summer Road Trip Im SEchser-Pack
Nach tausenden Kilometern durch atemberaubende Natur, Wildcampen, zwei Reifenexplosionen und so vielen hiflreichen Menschen, die uns bei sich zu Hause willkommen hießen, hatten wir das Bedürfnis uns niederzulassen. Zunächst dachten wir Nelson in den Kootenay Mountains oder das Okanagan Valley, das Weinparadies Kanadas', würde unser Plätzchen werden, um zu setteln und Arbeit zu finden. Dann sind wir aber doch gemeinsam mit unseren Road Trip-Gefährten Nathan, Meghan und ihrem Labrador Duck auf Vancouver Island gelandet. Sie fuhren wieder zurück nach Calgary, wir blieben. Gerne erinnern wir uns zurück an diesen genialen gemeinsamen Roadtrip durch British Columbia!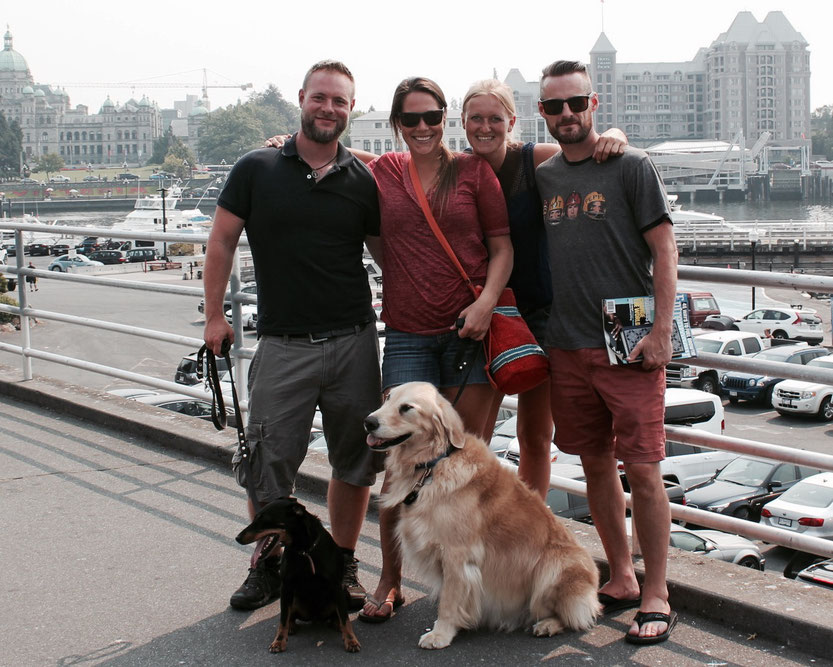 ending up in sooke, vancouver island - setting up our base and get work
Der Ozean, die Musik, die Natur und die Menschen hielten uns auf der Insel und Sooke, ein Städtchen am wilden Nordwestpazifik umgeben von Regenwaldwildnis ist unser neues Zuhause.
Die Musik bringt uns wie so oft schnell in intensiven Kontakt mit den Locals, Diana spielt jede Woche im gemütlichen Kemp Lake Café und wir haben sehr viel Spass, fühlen uns so willkommen. Aus Jammen wird die Ed Fury Band geboren. Wir spielen auf kleineren Festivals, Hausparties und Open Mics.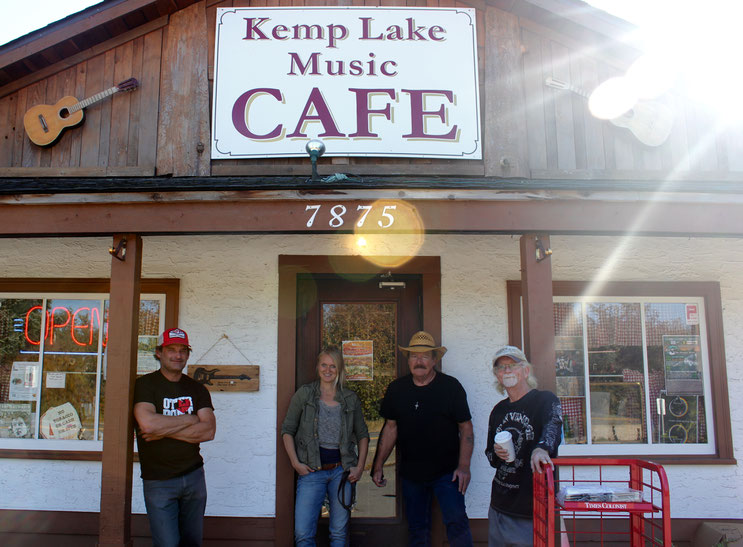 Fortsetzung Folgt In Teil 2 :)