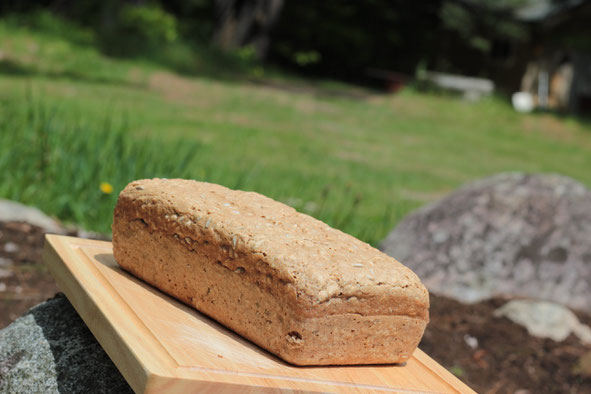 *preparation time: 5 minutes
*bake time: 55-60 minutes
---
Preparation
1. preheat oven to 375°F (200°C)
2. Combine all dry ingredients in a large-size mixing bowl. Active Dry yeast csan be added to the flour/seed mix
3. Add water and splash of olive oil. Mix well.
4. Brush a loaf tin with olive oil, fill with the mass
5. Brush top with olive oil and sprinkle extra seed on top.
6. Place in pre-heated oven and bake for 55-60 minutes or until a knife inserted into the the center comes out clean.
7. Take bread out of tin and put loaf back in for another 5 min
8. Let cool down and Bon Appetit!
It's a very wet dough but don't worry that's the way it should be.
Dry ingredients
3 – 3 ½ cups wholemeal spelt flower
3 ½  teaspoons of dried active yeast
1- 1½ cup sunflower seeds or other seeds (some extra for the topping)
1 teaspoon sugar
½  teaspoon salt
Liquid ingredients
2- 2 ½  cups of warm water
splash of olive oil
Cups=Grams
500g wholemeal Spelt
150g sunflower seeds or other seeds
500ml warm water
---