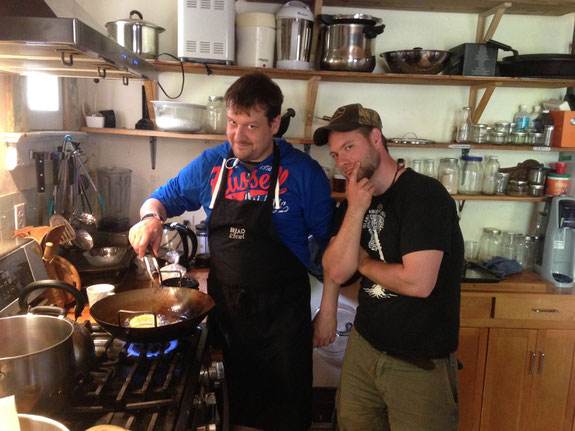 ---
For our Canada 2017 Trip we have so many ideas of what we would like to learn and explore. One thing we are curious about is to experience and dive into different concepts of lifestyle such as community living, eco villages, ashrams, off grid living, vegan lifestyle, hunt and harvest lifestyle, urban city living and whatever will come on our way.
Staying in an urban community house in Toronto was a very inspirational start for us.
Lotus Feast Community is the name of the 4 stair-vegan-house with permanent residents and a whole bunch of travellers that pass through staying for a couple of weeks/months in order to form part of the community, helping out four hours a day in exchange for food and accommodation.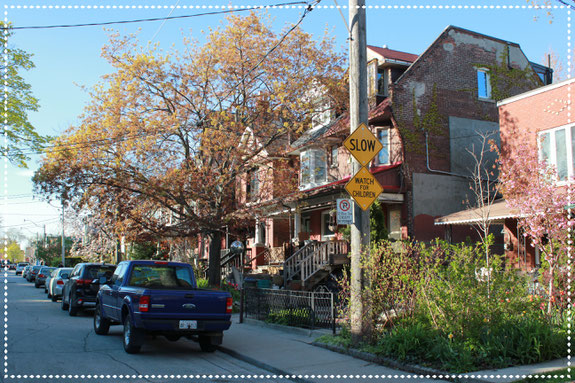 During the first days I was really impressed about the organization of the house, especially about the well-equipped kitchen, ready for your vegan cooking creativity: A vitamix, a bread maker, Dehydrators, nut milk bags, everything from chick peas to coconut flour and so on and so forth – pretty everything organic. Every Thursday the kitchen gets stocked up with fresh veggies from the farmers market around the corner or from Fiesta Farms Market, one of the nicest "organic super markets" in town.
My main work consisted of teaching 1,5-2 hours Yoga and meditation in the Yoga Room or on the beautiful roof top with view on the CN tower (the symbol of the city); taking care of the garden and cooking for the community. I felt pretty blessed as I love to do those things. Tobi mainly helped Steve, the owner of the property and inventor of Lotus Feast, to renovate the outer walls of the house and building up a new porch in the back garden.
Living in a Community House makes something with you...
...it's exciting, it's curious, it's challenging. The people you'll meet - it's like a box of pralines, you never know what you'll get. You make new friends and that's such a wonderful thing – we spend a great time cooking and working together, sharing yoga, etc. but also you'll find yourself confronted with people that may have very particular behaviors and also you confront yourself much more with your own particular characteristics in an environment with many individuals.  Living together means you can't really escape from it and need to find your ways to stay comfortable respecting your own boundaries and those of the others. There's a lot to learn to keep the heart open especially to people that you are maybe not so comfortable with. I guess if living in a community together long-term it's crucial to communicate transparently with each other and this is somehow challenging and takes energy and many times people just don't do it and it gets awkward. So are you willing to make that effort? That's one thing to keep in mind if  choosing to live in a community house with limited privacy sphere and various individuals. Nevertheless it was a wonderful experience for us. 
bella  - the community puppy
the Dog and too many people
In the last days before we left, our dog Bella signalized more and more that the house is getting too much for her, although she made good friends and had a good time - she started to get more and more lethargic.
It also showed us that being surrounded by people the whole time is quiet too overwhelming. Somehow it makes you a little bit less appreciative about the new people you meet, you start to get tired of asking  about their individual life stories. Even nearly all of them travelled the world and for sure each and everyone is so interesting, but due to the quantity of people, relationships get a bit superficial. That's somehow the sad point about it. 
Anyways, we loved cooking together (all vegan of course -except some cheese for the pizza at Tobi's birthday ;)) especially with our Italian friend Andrea (PS: we miss you!) but also with all the others. How many talented chefs - wow - I enjoyed it - cooking and prepare bread, pasta, Pizza,  Pesto, etc, everything homemade means a lot of time for socializing - once again I was reminded about this precious value of cooking together! 
Tobi's third Birthday in canada
We also prepared a really nice birthday party for Tobi and Sophie with excellent food and bakeries (where we nearly burned the kitchen jaja) and have recorded so many nice inspiring moments in the house that we'll think back of.
AND! it was fantastic having all the thrift shops, bulk stores, farmer markets, the music stores everything so close – I loved it!!!! For playing music, of course, it would be much better living in a city and that's my dilemma. But it's nothing new that we were, are and will be a couple which prefers life close to nature - The vibrant 24/7 feeling of the city is nice but lets us miss and appreciate once more again the peaceful silence of nature.
---
nThanks Steve for creating this place full of inspirations - we had an unforgettable time! 
If you are interested in working and living  with Steve and the Lotus Feast Community please visit: https://deliciousearth.wordpress.com or watch the video to get more impressions: 
---
---
PS: Our friend Daniel from Australia started a bicycle tour across the USA from New York to Seattle last Monday (6000km!)  together with the Green Riders planting wildflower seeds for bees ,  community gardens and doing tons of other good stuff  on their way to push a message for a sustainable world. I think it's so awesome and we wish all the best for you Daniel!  - if you are interested in some more information and a fundraising page please visit: https://www.gofundme.com/greenriders