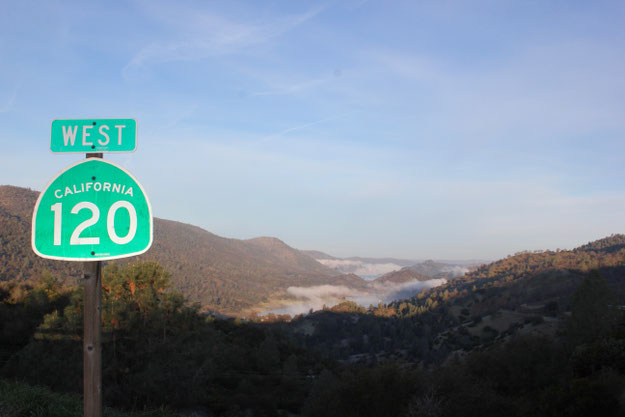 The Icy Roads of Yosemite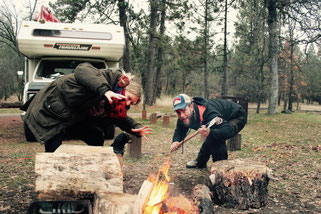 After leaving the Yosemite Valley, because of an upcoming winter storm with dropping temperatures, we headed to the US Westcoast again. The weather conditions were pretty rough and more than once we had to slow down our motorhome, because of dangerously icy roads. The nights were cold and we got crazy dancing around our little campfire to keep us warm.
Where is Bigfoot?
...but everything worked out and we were very thankful after crossing the mountains of the Trinity Alps. Unfortunately we couldn`t say hello to Bigfoot who is supposed to live in this region – haha, that would be fun! Finally we arrived safe at the coastal city of Eureka, CA.
Meeting chilled out elk
Continuing on the Highway 1 up north we entered the impressing Redwood zone again and enjoyed watching chilled out herds of wild elk browsing next to the Highway.
The Stormy ocean
Once more a new shower of hail stopped a photo session just 50m away from a herd of elk in the late afternoon and we decided to spent the night at Gold Bluff Beach at which we arrived after a 6 miles drive through old growth forest. Unfortunately we couldn`t make it to the campground because of the terrible road conditions with plenty of deep pot holes. But that didn`t bother us too much because of the even better view over the stormy ocean camping wild next to the beach.
Conneting with ancient Redwoods
Driving through Humboldt County, CA we entered the Prarie Creek National Forest the next day.The scenic route was closed but in the end this turned out into a great nature experience. On this day we were the only visitors hiking with Bella among amazing Redwoods on the Cal Barrel Road, discovering the spirit of this unique forest and giving a tiny Didgeridoo-Guitar concert in a huge hollow Redwood. What a unique venue!!!