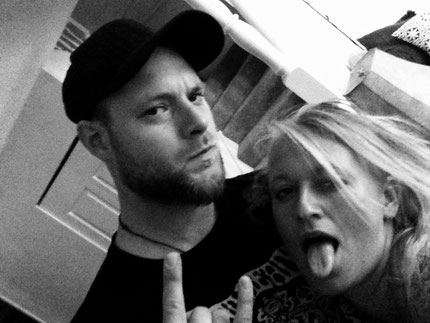 ---
Finally together – Rock'n'Roll Canada
Yesterday Tobi and me arrived in Canada. Tobi after a long trip all the way from Germany and me coming from Hawaii on a six hours trip. I already arrived in the morning and hung out at the airport all day long to surprise Tobi. I felt like one of those homeless people hanging around at the airport with their carts with all their belongings on it – was quiet funny though.
We were lucky that we could stay at a friends' house from a friend who's a friend of Tobis friend in Germany haha!  They actually didn't know us at all and they even picked us up at the airport. It's so nice! Jake an Cat are scientists in Organic Chemistry from the States and came over to do their PhDs here in Canada. It's  really so nice we can stay here at their house and they are really nice people.
So in the night we went out with them to a bar nearby and we only wanted to have some beers but ended up with a 120 Dollar bill – well that's how a journey is supposed to be started, right?
In the bar I got engaged with the musicians who played there and ended up performing with them in a few songs on percussion. If you know how to play music it's such a door opener -  Where there's music it feels like home. Tobi meanwhile got drunk with Peter a guy from New Zealand and we had some Jägermeister together. Peter is a real fun guy who did his PhD in Oxford – so take care – very Prestige! But he wasn't behaving prestige at all – he's such a nice open guy and we kept talking while the others were already heading home.
It's weird – although the United States and Canada are neighbouring countries Canadians seem to be much more polite and in general more sophisticated than Americans and they are somehow not that noisy. After having a good sleep we went out today to look for a camper van that we wanna buy for our journey up north and then resell it before we leave back home So wish us good luck we'll find a van that is running fine. It's a kind of strange being in a huge city after being on Hawaii which is so laid back – but it's already summer here – so that's fine, too