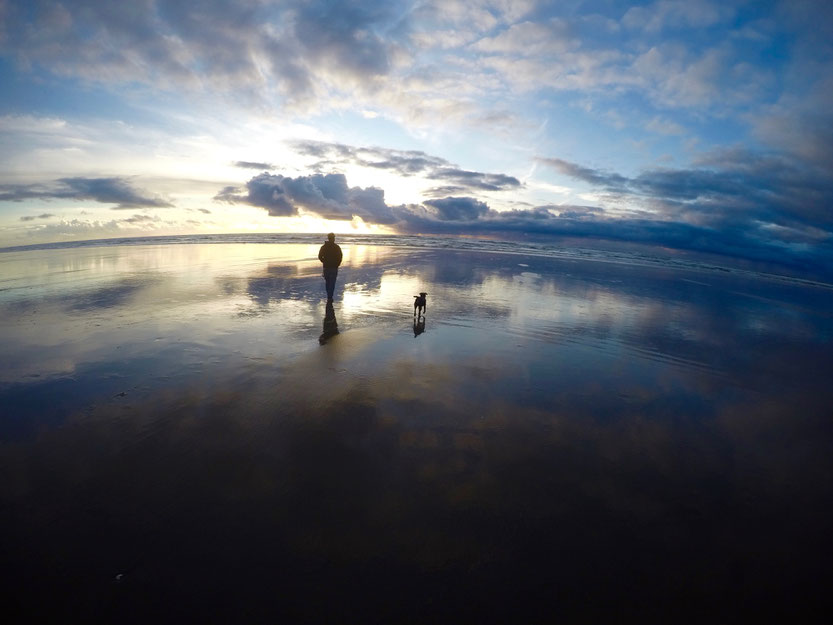 The power of nature
We left the promised land of California north of Smith River, CA and entered Oregon. Driving along the coast on Hwy 101, we had stunning views over the coast and on the rough ocean. Forced by the stormy weather, huge waves crushed against the coastal rocks which gave us a better understanding about the unlimited energy that is out there in the ocean. We were quite lucky to get just a little taste of that power while camping wild in a gravel pit next to the ocean, getting shaked by the wind in our motorhome and worrying if our solar panels might be getting damaged by heavy showers of hail.
---
Some moments of luxury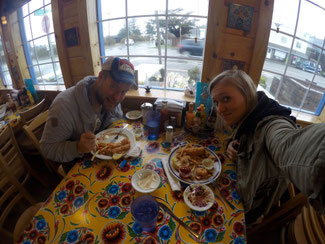 In Port Orford, OR we enjoyed Fish and Chips at the      Crazy Norwegian (a secret tip from our Boondocker friends) and spent a night with full hook ups in Marina RV Resort at the Winchester Bay. Yes, we really needed a shower and appreciated the luxury of Wi-Fi, electricity and our furnace!!!
Endless Sandy beaches
Continuing up north we arrived in Dune City and hiked along the endless sandy beaches of the stunning Oregon Dunes. The Dunes are THE recreational location in this region. It seems like everybody is into ATV and motocross, jumping over the dunes like crazy or doing downhill sand boarding instead. In the end it was a little bit too much for us. We spent the night at the Three Rivers Casino for free.
Before finally leaving the Oregon Dunes we enjoyed a great last hike along the beautiful sandy beach in the city of Florence on the next day. A real secret spot for a super delicious lunch with fresh fish is the Luna Sea Fish House if you ever pass the tiny town of Yachats, OR.
Among Fishermen
In the late afternoon we entered the city of Newport by driving over a huge bridge and from the very first moment we could feel it – this is a fishermen city with a special character!!! Nevertheless among the fishy smell the souvenir shops are a little bit disturbing while walking around downtown were the local fishermen hang out in the early evening after a hard day of work on a fish trawler or in a fish fabric.
After leaving Newport the coast gets more and more civilized according to the closeness to the greater Metropolitan Area of Portland. From this point the small coastal cities are getting more and more shabby and industrialized. Oysters, fish and logging made these cities rich, but nowadays the houses are run down and lots of homeless people living on the streets. Before leaving Oregon over another impressing bridge to Washington State we were passing Astoria. After enjoying Newport we were excited about this coastal city, but after a short cruise through the unattractive downtown we decided to just top up our gas and then to head north to Aberdeen tracing the roots of Nirvana and the Melvins.