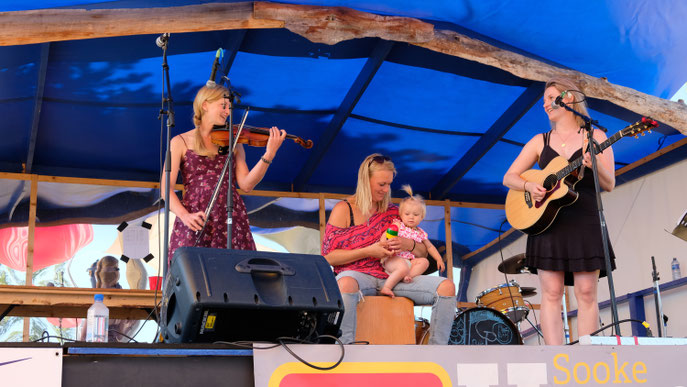 This weekend we had the Sooke Music Festival in town and it was Zoey's first music fest.
It was adorable to see how she was totally into it. I might say she's Festival approved now. I was happy to play both days with my first band "Pretty Folk" that I just recently started to play with and my family band "Ed Fury". Yesterday I played with Jessy and Sara. This was a rather spontaneous gig, because one of the bands cancelled. It was such a lovely gig with people chillin' out in the shade enjoying this relaxing music. While I was playing, Godmother Di and later on auntie Irene took care of Zoey, but for the song "Hallelujah" by Leonard Cohen I took Zoey on stage with me with her Maracas. What a moment! She was the star! Especially my star!
Tobi volunteered both of the days having lots of fun supporting the festival and together with friends and adopted family we were celebrating this beautiful community we live in: Nature, Music, the Ocean and the Stars. SAT NAM!