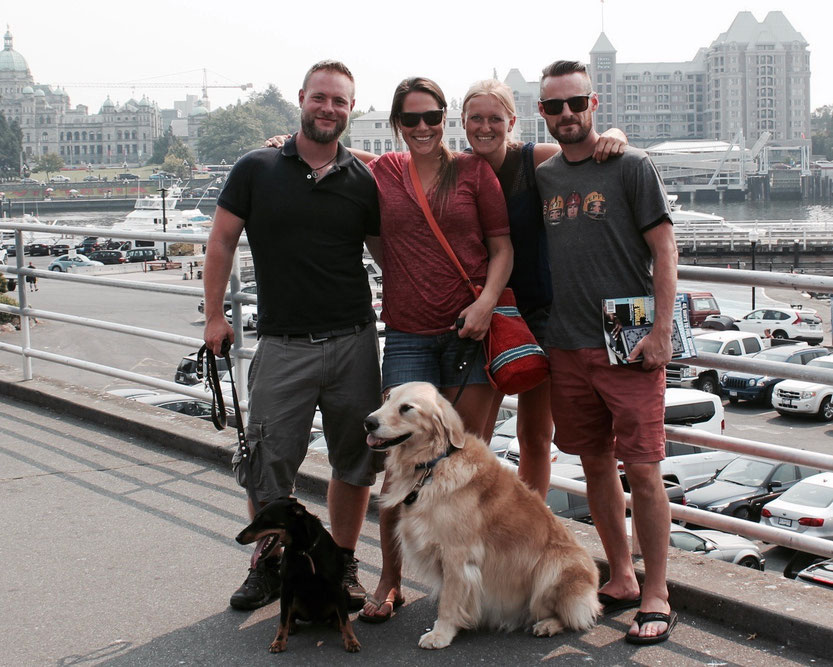 ---
Paaaaaaaaaannnnggg explosion! "What the hell was that? Oh!Oh! I guess our tire just blew up!"…
It's hot – it's really hot. We are somewhere on the Highway 95 near Kimberley in British Columbia and Tobi tries to fix the tire with a guy that stopped by to help us… they were sweating - but sweating. 
Our little inconvenience made us stop in the area. It's weekend and we not gonna get a new tire until Monday in the next by city Cranbrook, so we headed to the close by Wasa Lake.
Coming down to the beach I already spotted this couple and their Golden Retriever sitting on a Picknick table. They look interesting, I was thinking to myself. It didn't take long since we got into a conversation. "What's your dog's name? That's how all began 
To be honest, I was always horrified by "couple holidays", but together with those two crazy Canadians M. and N. from Calgary and our two dogs Duke and Bella we had the most epic road trip ever.
Our way brought us from the Kootenay Mountains to Nelson, moving on to the hot Okanagan Valley until we finally now feel the cool breeze of the ocean on Vancouver Island.
Actually M. and N. just planned a four days trip with their van "Veronica", which already took them all the way to Mexico earlier this year. Well, what happened was ending up on an one month road trip together.
We all were in a kind of the same situation: We all quit our jobs and are now ready for fun adventures in the Canadian pristine wilderness -  hell yeah - let's go!!
Most of the times we would camp wild at beautiful lakes and/or random rest areas, parking lots and wheresoever.  It was our mission not to pay and we always hoorayed when we figured out a new campsite for free. We just stopped whenever we felt like it.
Taking showers secretly at official campsites or just taking a bath in the lakes (of course with organic soap ;)), waking up and falling asleep in nature, living off grid with solar power, no big plans - easy cheesy! Fishing, hiking, playing music and doing yoga, cooking delicious meals, meeting funny people,  learning Spanish, playing with the dogs and so on and so forth  - just a healthy vagabond van life in Canada - some days in paradise! 
On our way through British Columbia M. and N. would take us to all their different friends' places and their family which are spread over BC. We met so many truly nice people that welcomed us with open hearts AND we've stayed at a hell of nice houses and properties which we can only dream of right now.
...And that's when complete strangers get friends!  We love you M. and N.and Duke – sooner or later we'll get the commune started! ;)
---
---