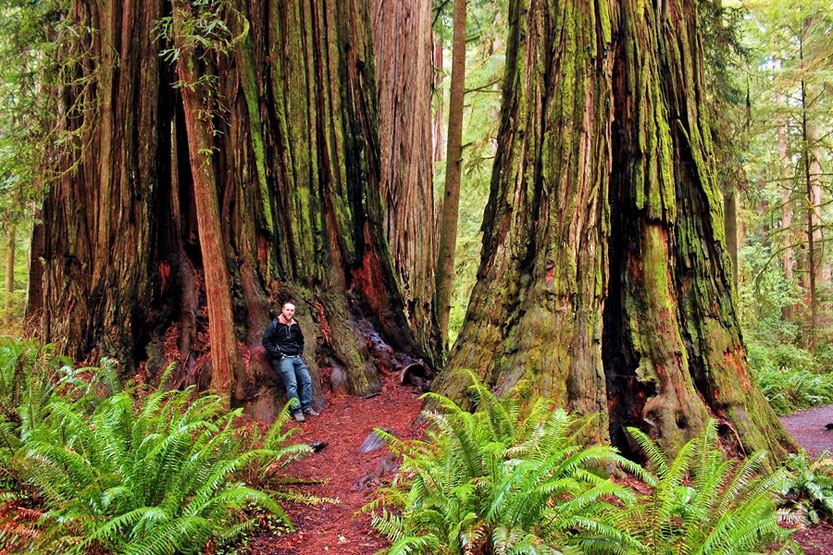 ---
 As a forester I am always curious about big trees. When it comes to such impressive living beings, it's never about cutting them down for timber or just for pleasure...such giants should live till they die natuarally and I would love to show them my kids as well. Unfortunately those old growth forests are extremely endangered worldwide and just a few sanctuaries are left.
In the last few years I discovered the massive ancient Eucalyptus trees of Western Australia and the ancient Old Growth Cedar Forests on Vancouver Island, Haida Gwaii and Northern British Columbia. Additional spots of interest were always along the US West Coast: Firstly the Redwoods on the Northern California Coast,  highest trees and oldest beings on earth; and the incredible thickest trees on earth, the Sequoias, south of the Sierra Nevada.
From a foresters point of view, these forests are a DREAM. In comparison to these woods, European silviculture appear like a kids playground and I was happy to enter the playground for "forester adults" now.
After leaving the city of Grants Pass in Oregon, we entered the the zone of the Redwoods in Northern California. On our way down south the coast on the Hwy 101 they became more and more impressive: Massive wooden towers along the road let our 22ft Camper look like a toy. Scenic side routes like the "Avenue of the Giants" and various trails in the Redwood Nationalpark gave us tons of options to discover this ancient and breathtaking forest by hiking. One downside of US National parks  - leashed dogs are allowed, but only on certain trails - so you have to finds your ways around. 
It happened a few times that I was standing in front of a group of old Redwoods, beings with over 1000 years of age, asking myself: How is that possible? These trees are growing just some metres away from each other. The fight for light, water and nutrients has to be so massive! But no way, they all look pretty healthy - seems like they really care for each other! Those guys are just like a big family, supporting each other over thousands and thousands of years, just standing here and waiting for the right time – a fire – to drop their seeds and juvenile the forest.
What an intense experience to touch and smell these old giants. I am very thankful and I am looking forward to showing these trees to my children. I am pretty sure, that we will meet here again!
---