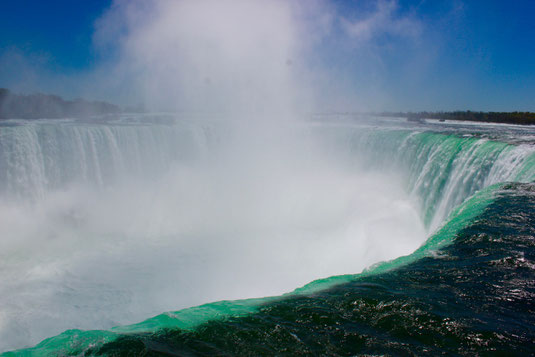 For two days we stayed with our friend Brian and we enjoyed our time with him so much!  Brian is a wild fire fighter who takes care of wild fires that happen annually in Canada in summer time. He also already rescued several lifes while working up in the Rocky Mountains – rescuing climbers and hikers in emergency situations with helicopters AND he is also a passionate hunter. I first met Brian in Germany at one of our families' hunts and told him years ago:  "One day I'll come to Canada and visit you" – well here we go!  It was quiet a funny change coming from a vegan community in Toronto to an all Canadian hunters' house in the country side – experiencing a totally different Canadian reality once again. Brian has so many interesting stories to tell that you can just sit down and listen to him for hours.
He helped us with the safety check of our motorhome and other stuff that needed to be organized and took us around for two days showing us the beautiful area between the Canadian and American boarder inter alia the Niagara Falls.
Yes! Bella made it to the Niagara Falls!  She was pretty impressed seeing all these water masses rushing down from the falls.
Driving down to the waterfalls I also was very excited and then in the next moment so disappointed: All the way down to the falls you find huge hotels and some type of a big amusement park which makes you feel more like visiting Las Vegas than a natural spectacle.
Oh you North Americans what did you do to those pretty falls? – here the Canadian mentality comes pretty close to that of Americans. – I would never had expected that but well, the Niagara Falls is one of the most popular places for honeymooners. But nevertheless,  the waterfalls are still so pretty and so breath-taking impressive!  It felt so nice sharing this beauty with Bella!  
Some facts about the Niagara Falls:
Niagara Falls is the collective name for three waterfalls that mark the international boarder between Canada and the USA. Located on the Niagara River, which drains Lake Erie into Lake Ontario, the combined falls form the highest flow rate of any waterfall in the world. The falls were formed when glaciers receded and water from the newly formed Great Lakes carved a path through the Niagara escarpment en route to the Atlantic Ocean (Wikipedia).