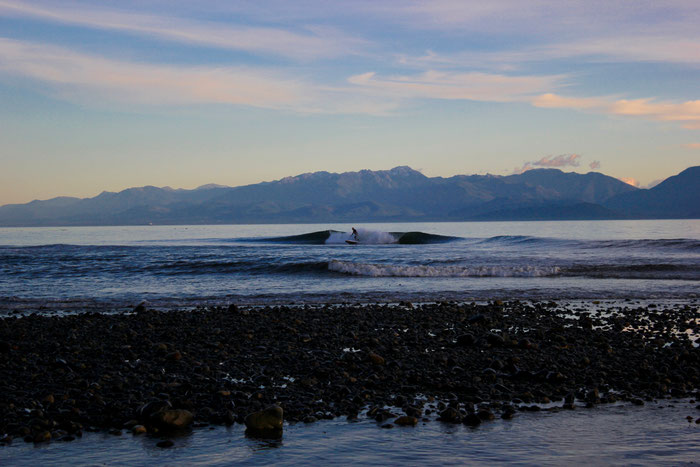 ---
In end of July we arrived on the Island together with Meghan and Nathan with whom we travelled with through British Columbia for roughly a month. On our last day together we visited the so-called Kemp Lake Music Café in Sooke on the southwest side of the Island. The Café already caught our eyes several times when we drove by. We would have a farewell breakfast together and watch an Open Mic show before they headed back home to Calgary..
..Living in the motorhome and camping wild here and there, the Café soon turned out to be a little home for the first weeks. Pretty soon we decided that Sooke is the perfect place to get settled, after some 10.000 km's on our road trip.
Sooke.It's out there! It has this outstanding wilderness charme between ocean and rainforests. It's yet close, but not too close, to Victoria, the Capital of British Columbia, just 40km's away. It's a spot where you feel far away from the hustle; sharing the garden with deers, but still close enough to enjoy the advantages of urban life and to find decent work. It's this kind of a place; that has this perfectly matching combination of outdoor- and urban living.
Well, the hosting band of the Café needed a drummer! Perfect!
Since August I play with The Ed Fury Band, a collective of four musicians, spanning multiple decades playing some Traditional Folk & Country Tunes infused with Island Surf Rock.
The exotic thing about it is to play this western-style music with a cajon.
The Cajon is an afro-peruvian percussion box and got popular internationally through Flamenco Music. Paco de Lucia, one of the greatest Flamenco Guitar Players of Spain, brought the instrument into Flamenco in the 1960/70s and had a big impact on it. It's an amazing instrument to play; with a wide range of different percussive dimensions.
Anyways, those guys are gems to hang out and play with!
We play some Fridays and Sundays and host the Open Mic once a month at the Kemp Lake Café. Tomorrow, Friday, 20th we will have our first concertito in Victoria. I wish some of you could attend – common fly over!!!!J J J   
a waterfront studio
Our bass player lives in a house on the wild coast of Sooke with views on the Juan de Fuca Strait and the Olympic mountain range of Washington on the other side of the ocean. It is at the same time the music studio where we play music, hang out and stay over with our camper a lot. Tobi is getting a pretty decent didgeridoo skills and it's so nice seeing him connecting with his wooden earthy instrument.
It reminds me on how we used to play back in the days, when we sometimes played music  for days; recording, having good food and other nutritious things ;), sleep, wake up and play music again. No boundary between living and playing music. Those moments were  some of the most  pleasant ever. Difference this time: The spot!  – Taking  a couple of breaths of the ocean breeze from the Wild West Pacific and it's surrounding rainforests is contributing quiet a bit to the  musical inspiration! But nevertheless the Odenwald (my home) has of course it's very own particular inspiration as well ;) 
Bottom Line: After travelling in several countries, playing with different musicians, the power of music is still overwhelming me with its ability to connect! Viva la Musica! J