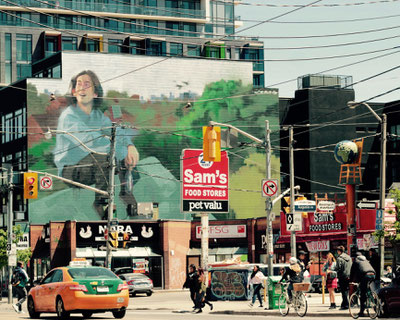 Nearly one month of Toronto lies behind us and we appreciated being there for the first few weeks getting everything sorted out that we needed to in order to prepare our road trip.
Actually we haven't been out exploring nightlife a lot as we were pretty busy during the day. Toronto is generally a very colorful city due to its multi culturality: different townships such as Little Italy, China Town, Korea Town with each and every one having its own particular flair paint the picture of the biggest city of Canada with its nearly 6Mio. habitants. By walking through the streets, so many different languages come to ones ear.
We lived in a Portuguese area between Ossington and Bloor St. and I greeted our neighbours with "Bom Dia" instead of Good morning.
In the central area of Toronto you'll find many big family houses with nice gardens with lots of space and huge trees comparing to European cities. It doesn't necessarily give the impression of being in a metropole. 
I think that those kind of cities like Toronto can be seen and surely are seen as a prototype model for how cities will look like in the future due to increasing international mobility in a globalized world.
In general, coming from Europe the fascinating thing about Canada  is the fact, that it differs a lot  from  European nation state concepts, where everyone that is not originally belonging to the certain nationality (German, Spanish, Greek etc.) is likely to remain a foreigner. . Whereas here nationalities came and still come from around the globe to settle and live here and are  feeling pretty Canadian together - at least that's my subjective impression from the last three years visiting the country. Canada celebrates its 150 years as a nation this year, so yet it's a pretty young nation.
Nevertheless I don't want to tend to romanticize the issue as there's still a divide into "Natives", (the Indigenous) and "Non-Natives" where's still a huge gap to fill.
Anyway if you visit Toronto you definitely should go to see Kensington Market, one of the hippest and craziest areas of the city with tons of nice little shops, thrift shops, vegan and gluten-free eateries, WEED Dispensaries, basking, Live Music and a lot to watch.