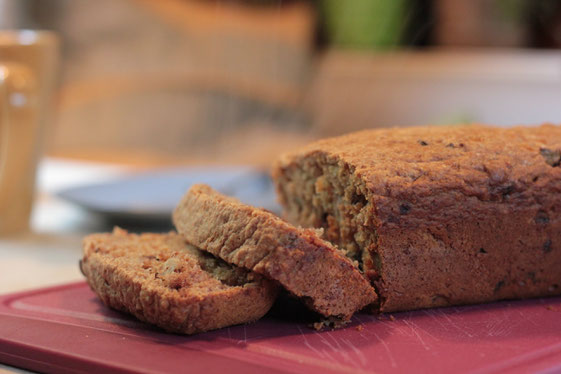 *preparation time 15 minutes
*bake time 50 minutes
---
Preparation
1. preheat oven to 350°F (180°C)
2. Crash walnuts in smaller pieces. Set aside.
3. Combine all dry ingredients in a large-size mixing bowl. Set aside.
4. Crush bananas with a fork. Combine with milk and coconut oil
5. Pour liquid mixture into the dry ingredients and mix gently to combine. Fold in walnuts and dark chocolate drops
6. Fill mass in loaf form

7. Bake for 50 minutes or until a knife inserted into the the center comes out clean.
8. Let cool off min. 15 minutes before taking out of loaf form 
9. Buen Provecho!
Dry ingredients
2 1⁄2 Cups spelt flour
1⁄4 Cup raw sugar
2 teaspoons baking powder
1 teaspoon cinnamon
Prise salt
1/3 Cup dark chocolate drops 1⁄2 Cup walnuts

Liquid ingredients

3-4 very ripe bananas
1⁄2 Cup warm coconut oil
1⁄2 vegetal milk
1 egg or egg replacement*
sunflower oil for the loaf
*Vegan – replace egg with ground flex seeds: substitute 1 tablespoon (8gr) of ground flex seeds plus 3 tablespoons of water for one whole egg. Mix and let stand in bowl for 1 or 2 minutes, and use as you would for 1 egg. 
---