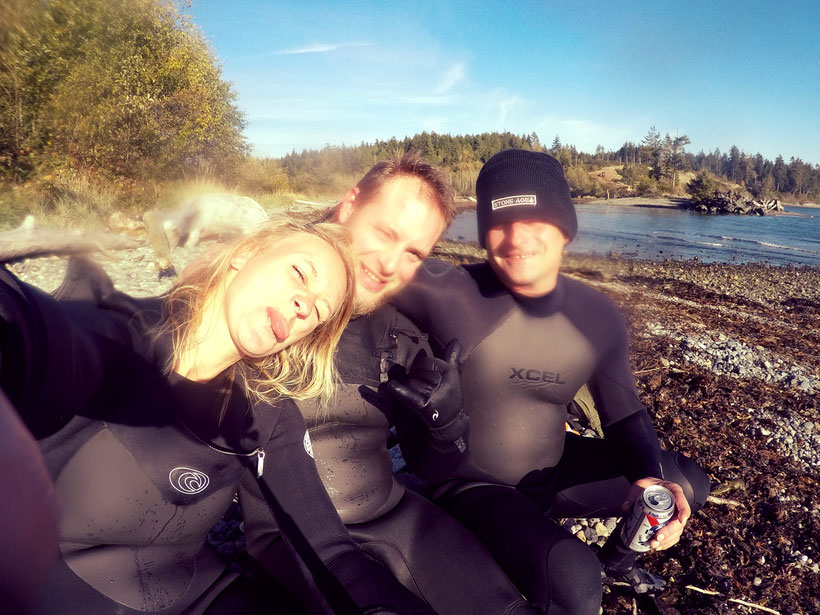 finding a job and get settled!
Ich fange meinen Job in der Hauptstadt Victoria an - eine wunderschöne Stadt. Die Arbeit als Cannabinoid Therapy Assistant fasziniert mich. Nach wie vor bin ich so dankbar, dass ich hier eine richtig gute Anstellung gefunden habe, die es uns u.a. auch ermöglicht hat über unser Jahresvisum hinaus in Kanada zu bleiben. Nah am Menschen zu arbeiten, in einem Feld das mir sehr sinnvoll erscheint, war etwas das mir in meiner Arbeit zuvor in der Wissenschaft etwas gefehlt hatte. Durch den Job konnte ich mittlerweile schon viele Menschen dabei unterstützen, ihr Leben ein Stückchen gesünder und lebenswerter zu machen.
Tobi ist auf der Insel voll und ganz im Naturschutz angekommen und lernt durch seine Arbeit  viele First Nations Natives kennen, deren Geschichte ihn jedes Mal immer sehr bewegt. Er ist mittlerweile Director of Board of the Greater Victoria Green Belt Society. Seit Herbst letzten Jahres arbeitet er mit unserem Freund Sean an anstrengenden, aber interessanten Projekten in Stone Masonry. 
Wir finden eine  Wohnung mit Meerblick in einer der schönsten Ecken der Insel, ein weiterer Traum der in Erfüllung gegangen ist. Bären inklusive. Wir fangen an richtig in Kanada zu leben...
---
Our Garden...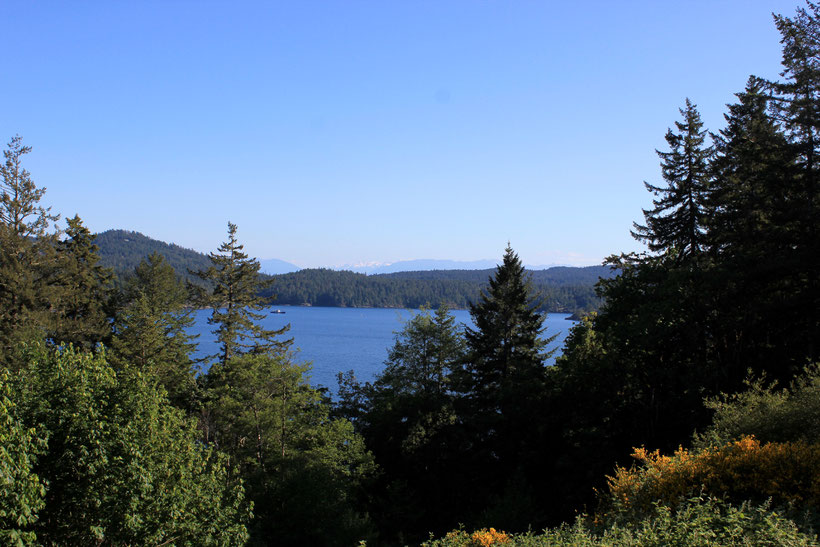 ---
Wir machen tolle Erfahrungen in der Natur, was ja auch der Hauptgrund für uns war, nach Kanada zu gehen. Immer wieder diese Natur die einem den Atem wegnimmt. Ein Highlight sind dabei definitiv die jährlichen Lachswanderungen im Herbst. Die Flüsse sind dann voll mit zig hunderttausenden leuchtenden Lachsen, die zum Laichen vom Ozean wieder an ihre Geburtsstätte zurückkehren, um anschließend zu sterben. Hier muss man dann vor den Bären acht geben! Das Ökosystem strotzt hier nur so vor Leben. Noch! Denn mit dem scheinbar ungezügeltem Bauboom wird die Natur rasant zurückgedrängt.
---
Bella trying to catch a salmon
---
der erste winter in kanada - oh!oh!
Mit der Lachswanderung kommt der goldene Herbst und danach die endlos anmutende Regenzeit. Monatelang Regen und Grau, Regen und Grau, Regen und Grau, es schlägt uns auf das Gemüt - haben wir dafür Deutschland hinter uns gelassen, um woanders genau so ein mieses Wetter zu haben?  Wo ist die Sonne? Es fühlt sich ähnlich an wie in Deutschland, aber irgendwie doch ganz anders, der Regenwald und der Pazifik haben solch eine Schwere an sich, dass ich es gar nicht beschreiben kann. Es hat so etwas Mystisches, eine in sich klingende Melancholie - die trotz allem auch etwas sehr Besonderes in sich trägt. Wir sind wie immer viel draussen in der Natur, hiken, fahren Boot und spielen Musik. Die wohl besten Mittel der Wahl gegen den Winterblues anzukämpfen.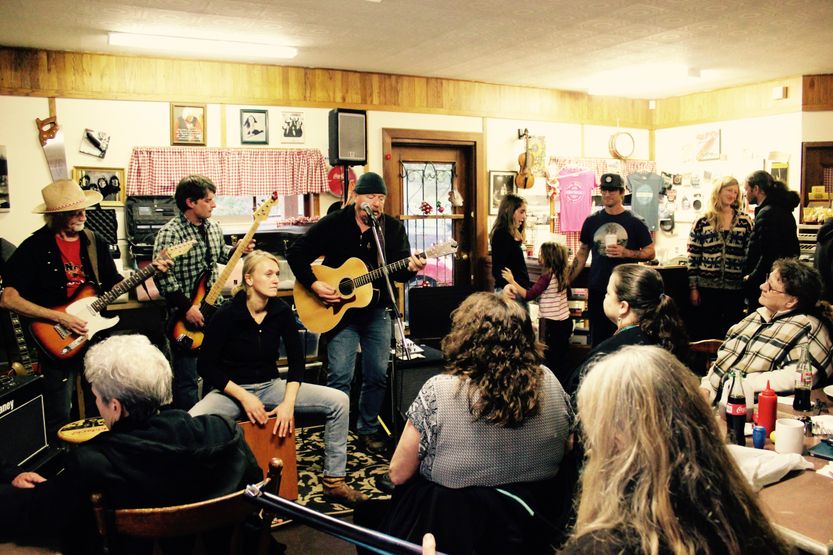 ---
es gibt kein schlechtes wetter, nur schlechte kleidung...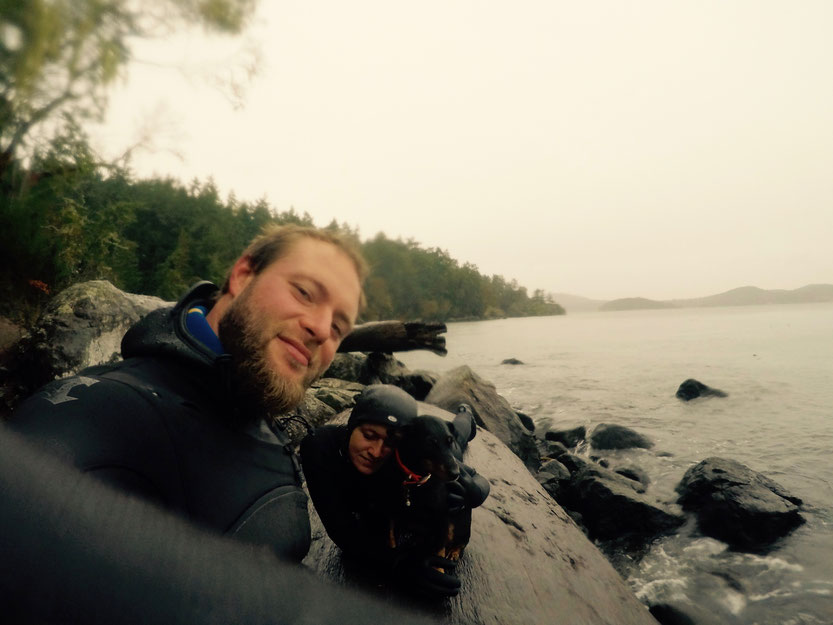 ---
Unser neues Hobby ist das Wetsuiten - Ein atemberaubendes Erlebnis. Die Winterneoprenanzüge sind zwar keine billige Investition, aber eine die sich für uns so sehr gelohnt hat: Im Pazifik mit Winterwetsuit im strömenden Regen, keine Menschen weit und breit, gemeinsam mit den Robben, Seemöwen und Weißkopfseeadlern über uns. Es gibt uns immer wieder aufs Neue Energie, ein wahrer Adrenalin-Kick, durch den man sich so lebendig und verbunden mit der Natur fühlt.
---
routine, alltag und visastress
Mit der Routine und dem Alltag kommt aber auch der Stress. Müdigkeit, Abgeschlagenheit und Überarbeitet-Sein von einem 40 Stunden Job. Wir sind quasi in einem "normalen" Leben in Kanada angekommen und lernen immer mehr, was es heißt wirklich in Kanada zu leben.
 Wir lernen auch, was es heisst in einem reichen Land an die Tür zuklopfen und zu betteln: Bitte lasst uns rein und gebt uns die gleichen Rechte wie sie jedem/r Kanadier/in zustehen. Wir schaffen es, wir bekommen die Visas, die uns über Wasser halten und uns die Vorzüge des kanadischen Systems eröffnen. Nach wie vor sind wir sehr stolz auf all das, was wir uns hier aufgbaut haben. Bei all den schönen Bildern, es war und ist aber oft auch nicht einfach gewesen. Ist zwar klar, aber Kanada ist eben doch eine ganz andere Kultur - und man muss erst mal viele "kulturelle Codes" lernen. 
---
Unser letzter road trip mit orwell
Dann ging es noch einmal auf unsere letzte größere Reise mit Orwell unserem Motorhome. Dem Regen entfliehen, wie es so viele Kanadier machen. Einen Monat  erkunden wir die US Westküste, ein Traum wird wahr.
Heute verkaufen wir unseren lieben Orwell, der uns nie im Stich gelassen hat, weder als Mobil noch als gemütliches Tiny House auf Rädern.
Er geht in die Hände eines Musikers, der durch Amerika reist und wir sind froh, a good spirit is taking our motorhome over! Während ich diese Zeilen schreibe, wickelt Tobi gerade den Verkauf ab!
---
getTing out of our comfort zone...where life begins to feel Pretty Intense
Ich möchte keine Minute von diesem letzten Jahr missen! Diese Zeit war und ist so einmalig, sie hat uns stärker und freier gemacht im festen Glauben daran, dass wir alles schaffen können, was wir wirklich möchten! Wir haben wiedermal gelernt, wie wertvoll es ist, unsere Träume ernst zu nehmen und sie zu verwirklichen. Es gibt immer positive und negative Seiten, dass müssen wir mit Respekt so annehmen. Die unangenehmen Seiten gehören genauso dazu, wenn wir uns wagen unsere Sicherheitszone zu verlassen und uns in Abenteuer mit unbekanntem Ausgang hineinzubegeben. Wir haben wieder mal mehr gelernt in das Leben und in uns zu vertrauen und I just can say - it's worth it!!!! :) 
Life is journey ! A lifetime journey through nature, music, love and compassion.