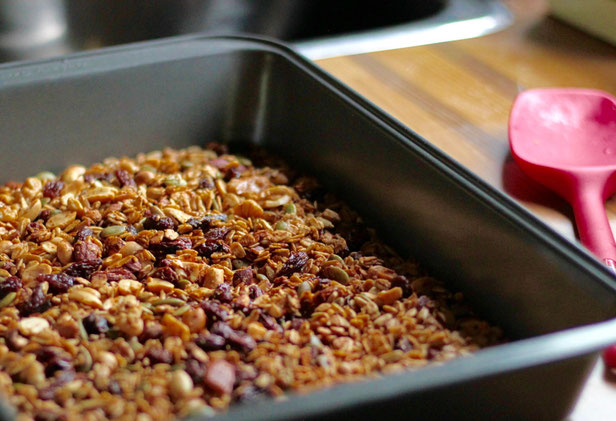 *preparation time: 10 minutes
*bake time: 10-15 minutes
---
you'll never ever buy granola again when you start to prepare your own one
Preparation
1. preheat oven to 300°F (160°C)
2.Combine dry ingedients in a mixing bowl
3. Add wet ingredients and use your (clean) hands to mix well and toss to coat – it's sticky but that's the way it should be.
4. Spread mixture in thin layer on a parchment paper on a baking tray and bake for 10-15 minutes, until lightly toasted. Turn once during baking.
5. Cool before serving or storing.
6. Store in a mason jar or BPA-free plastic bag for on the way.
6. Enjoy your breakfast with yogurt and fruits, milk or vegetal milk.
Dry ingredients (for 1l mason jar)
2 cups of rolled oats
1 cup sunflower seeds
1 cups raisins
1/3 cup  walnuts
1/3 cup peanuts
1/3 sesame seeds
1/3 cashews
¼  cup hemp seeds
pinch of salt
Wet ingredients
¼ cup of coconut oil
2 tsp of molasses or raw honey or maple syrup
a good splash of agave syrup
---